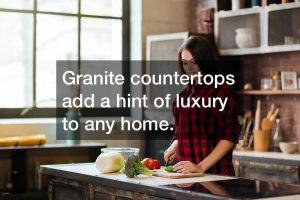 Granite countertops add a hint of luxury to any home. But they do not come cheap! Solid surface countertops usually sell for about $50-$55 per square foot. That can add up quickly when redoing a kitchen. But fear not! You don't have to abandon your dreams of granite countertops.
One option you can consider is spray-on granite. This could save you ten times the amount of money you'd spend on regular granite. And it's more durable too. Yep, you read that right!
You'd start by choosing the exact color and texture you'd like. This is when it's important to understand the vision you have for your kitchen. What's your design style? What vibe do you want your room to emit? Choose a color that fits your kitchen's color palette but isn't too matchy-matchy. You want cohesion without all of your kitchen elements blurring together. So choose a color that complements your walls, cabinets, and tiles while still maintaining a nice contrast.
The staff at your local home improvement store can help you pick a color that suits your needs. You can show them inspiration pics or photos of the existing elements in your kitchen and they can find the perfect color for you. You should also provide them with measurements of your counter space so they can tell you how many bottles of spray paint you should buy.
.