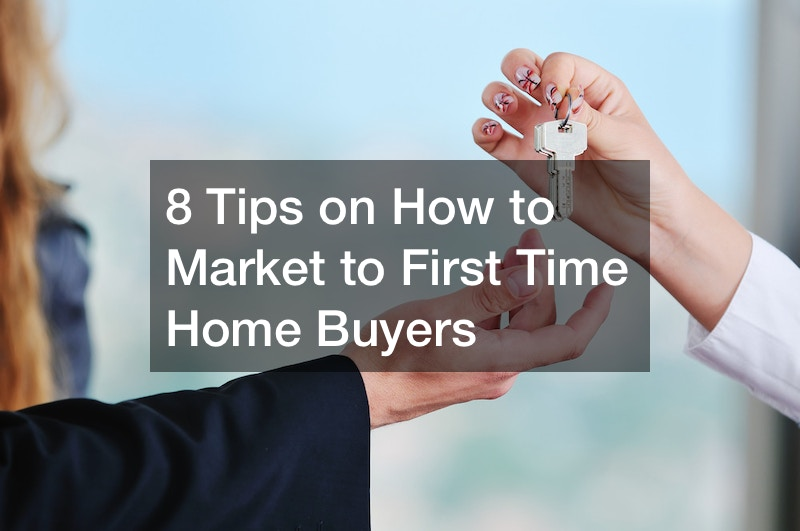 First-time home buyers are a significant part of the home buyer's market, and as an estate agent, you need to know how to reach them effectively, how to market your value proposition, and how to communicate with them. First-time home buyers face many challenges and have specific needs when looking for their first home.
One of the biggest hurdles first-time buyers face is the issue of affordability. They also worry about how to manage the conveyancing process, how to find time to navigate all the hurdles of house hunting and putting in the offer, how to fill out the paperwork, and finally, they stress about getting approved for a mortgage.
It is a stressful but exciting time for them, and as an estate agent, you need to make them feel less overwhelmed and guide them through the process to ensure a happy sale.
So, the best way to market to first-time home buyers is to understand who they are, what they want from their first home, and what they are struggling with. Then, present yourself as the best solution to all their problems. You need to be someone who will show them the best way to buy their new home and have their best interest at heart.
First-time home buyers are often young people (millennials and Gen Z generation). They are tech-savvy and often consult their phones or the internet before they make any purchasing decisions.
To attract and retain their attention, you will need to position yourself as the one agent that stands out from the crowd. Present yourself as an expert in your local area and share with them all the knowledge they will need to become successful first-time homeowners. You can do that by creating a website for your agency and posting helpful content.
Creating and posting content that will resonate with first-time buyers will help attract them to your site and get them into your doors. You can share your expertise through multiple content formats like blog posts, videos, and social media campaigns. Building lasting relationships with them is key. Remember, first-time buyers want to work with an expert who knows the market, can advise them on legal issues, and has their best interest at heart.
Here are some strategies and types of content you can share to market yourself effectively to this group of individuals.
Partner with Local Companies
One example of how to market to first-time buyers is establishing yourself as a local expert authority that helps first-time buyers achieve their dream of becoming homeowners. To be seen as an expert, you can build partnerships with local businesses that can offer valuable resources and discounts to your clients. Partnering with local businesses also has the advantage that it builds your brand and helps them by expanding their reach to new clients.
For instance, you can partner with local retailers to offer discounts on furniture and other home goods purchases. So, if your first-time homeowner client needs to replace a garage door on the home you sold them, they can receive a discount on local garage door replacement when they buy their home from you.
You can also partner with other businesses that will bring value for your clients, like lending institutions that offer educational workshops teaching prospective young home buyers how the home buying process works, how good credit scores can work in their favor, and how to apply for a mortgage.
By building relationships with local companies, the estate agent can gain a competitive advantage in the first home buyer's market.
Make Sure Things are Up to Code
First-time buyers look for properties that are move-in ready. Most of the time, they are young professionals with busy lifestyles and do not want to spend many hours getting the property up to their standards.
As an estate agent, it is in your interest to ensure that the home you are showing is up to code and does not hide any nasty surprises. Your reputation depends on it, so have each listing inspected by a qualified building inspector to protect yourself and your clients.
Showing your clients that you are committed to giving them the best possible home-buying experience is how to market to first-time buyers.
A home that is up to code is usually more valuable than a home that is not. First-time buyers will pay extra if they can have the peace of mind their home is in good condition and meets all the building standards. For instance, it already has storm windows and doors installation.
For that purpose, you can offer to provide new buyers with a copy of the home inspection report to entice them to buy.
Pay Attention to Plumbing
Plumbing is one of the major expenses for homeowners. That is why buyers who buy property with plumbing problems are more likely to experience buyer's remorse.
Fixing plumbing problems can be a major expense and a major inconvenience for new buyers.
Making sure that the plumbing in the house you are selling is in good condition will make the listing more attractive to buyers. It is also one way to be successful in how to market to first-time buyers.
The best way to provide peace of mind that the plumbing system is working well is to have it inspected by a professional plumber. New construction plumbing should be inspected, as well as an older home. You cannot take a chance and assume that just because the home is brand new, the plumbing system is installed correctly.
The most commonly occurring plumbing problem is a blocked drain. To be safe, before showing the property to first-time buyers, you may want to hire a drain cleaning company to ensure that all drains are working properly.
Give Moving Tips
One of the most important topics on how to market to first-time buyers is providing lots of actionable moving tips and advice. Packing to move into your first home can be an exciting event for them, but it also is stressful. Information on how to organize a move and how to approach packing up their belongings will be the valuable type of content first time buyers will appreciate reading on your website.
You can create articles that cover topics like moving supplies, how to develop a packing schedule, and how to pack their boxes to make unpacking on the other side easier.
Other information you may provide can cover things like how to pack outdoor furniture and garage items, how to pack up your home office, and how to pack your kitchen appliances. Your clients will love this type of information.
Also, don't forget to include information about the moving day. How to pack the moving truck, how to unload the boxes from the truck, and how to unpack their belonging in the new house.
Mention New Features
Technology is advancing in the world, and there are also advances in home technology. If you are looking for innovative ways to market to first-time buyers, make sure they stay up to date with all the new home tech gadgets available today that fit their lifestyle and make life easier.
First-time home buyers would love to buy a home with modern features and amenities. If you highlight those features in your listings, it will increase your chances of having first-time home buyers attending your viewings.
Listing special features present in your listings will attract first-home buyers. What they are looking for in a home is features that can save them time on chores like a central vacuum install, save them money on bills like any energy-saving features, or the fact that the tankless water heater is already installed.
Other features that young first-home buyers find beneficial and enticing are sustainability features like a home with a rainwater harvesting system, smart home features like remotely controlled thermostats, or luxury features like a home theatre system.
Get Things Customized
If you want to sell houses to a first-time homeowner but are unsure how to market to first-time buyers, remember that they are looking for homes that are unique and reflect their personal style.
For instance, make sure that you include any customized features in the title and description of the property listing. It will make buyers aware of what's on offer as soon as they see the listing.
Market homes with customized features through social media ads to be seen in places where first-time buyers can be found. Remember to include lots of photos in your listing so that the benefits of any unique features can be seen, and it is easy for them to imagine themselves living in that home.
The customizations don't necessarily need to be expensive. Even something relatively small can make the property look unique and add curb appeal, like installing beautiful shutters on the windows. One idea would be to partner with a local shutter company that can offer discounts to clients. You will send them to install custom-made shutters in their homes.
Make Sure You Have The Necessary Equipment and Partners
There will be times when you will get a real fixer-upper to sell. Even though it is run down now, such property may attract young first-time buyers. Run-down properties are usually priced cheaper and may be what young buyers can afford. They are young and may be keen to try their DIY skills. Besides, a run-down house in a good area is a good investment for the future. It may be a foot in the door for young buyers struggling to keep up with the high prices of homes.
One way you could add value to your service when you handle such sales is to show them where they can access heavy equipment rental service because, depending on the type of renovations they want to do, they may need specialized equipment.
Prepare The Home for Different Seasons
By taking time to prepare homes for different seasons, estate agents will make their listings more appealing to first-time home buyers and increase their chances of getting the sale.
So, how do you market to first-time buyers in different seasons? In spring, you can focus on increasing the curb appeal. For instance, you could plant colorful flowers near the entrance or along the pathway. Mowing the lawn and trimming the hedges will also add that well-cared-for look that first-time buyers like.
In summer, make sure that the home has a working air conditioning system. If the house does not have air conditioning installed, point out how well the windows are insulated to keep the cool air inside the home.
In the fall, ensure that the leaves are raked and neatly taken care of to play into the well-taken-care-of-home sensibilities of first-time home buyers.
If you are showing homes in winter, make sure that the heating system is working. Nobody will want to buy a house that is freezing inside. Taking care to clear the pathways of snow and ice will also make a good impression.
Even if you don't go through all the trouble of making the house perfect according to the seasons, at least make sure the heating system and air conditioning work. Replacing an HVAC system in a home is a high-ticket item, and buyers would like to be assured that they have time before the system must be replaced.
Again, you can take advantage of a partnership with heating and cooling services in your local area that can help new buyers if they have any problems with the heating or cooling of their homes.
The first-time home buyer segment is a significant part of the real estate market. Knowing how to market to first-time buyers can unlock a new income and revenue stream for the estate agent. To reach that market segment, you need to be proactive in establishing yourself as a local expert who has the best interest of new would-be homeowners at heart.
Marketing efforts to this segment of homebuyers may be more time-consuming than what it takes to sell to more seasoned buyers who know what they want and how things work. Still, it is time and effort well spent if you find yourself helping young people achieve their dream of owning their own home.